We know SCAD, but what is ITGM?
At SCAD, ITGM stands for Interactive Design & Game Development. The Interactive Design and Game Development program at SCAD is the fusion of artistic and technical training in one of the fastest-growing industries in the job market. Students learn the aesthetic, artistic, design and technical abilities needed to become leading artists, level designers, game designers, innovators, and interactive Web and experience designers, as well as installation and digital artists. For more information about SCAD ITGM, please visit our website here.
…………………………………………………………………………………………………………………………………
SCAD-Atlanta Game Lab
SCAD Game Lab is a new research facility at SCAD-Atlanta established in 2011 for the interaction design and game development students to do research and work on group projects. The lab is located in the SCAD-Atlanta Digital Media Center room 348. Our equipment include computer stations loaded with all game dev software and tools, all the latest next-gen game consoles, MS Kinect, PS Move, Rockband, various retro game consoles and gaming input devices, 2 large custom-made arcade machines, portable projector, speakers, physical computing sensors and parts, and a huge collection of digital games, board games and books.
[click the images to enlarge]  
…………………………………………………………………………………………………………………………………
SCAD-Atlanta Motion Capture Lab
The Motion Capture Lab is a new teaching and research facility established in 2010 at SCAD-Atlanta for the School of Film and Digital Media students to study and produce motion capture based projects. The Motion Capture Lab is located in SCAD-Atlanta DMC room 330. It is made possible by the hardware/software donation from the Hi-Rez Studios. SCAD-Atlanta ITGM collaborates with Hi-Rez Studios to design course content for our Animation for Games class and develop an internship program.
[click the images to enlarge]
…………………………………………………………………………………………………………………………………
SCAD-Atlanta ITGM Master Workshops
ITGM Master Workshops is a series of industry professional presentations or workshops hosted by the SCAD-Atlanta ITGM faculty. In each event we invite an accomplished professional from the interactive design and game development industry to our campus to give a presentation and discuss or even demonstrate their skills live. Through the presentation or live demonstration, the guest speakers share their industry experience and knowledge with our students in an interactive and hands-on environment, and our students get to see how a professional thinks and works first hand. Each workshop is followed by a Q&A or portfolio review session for our students to speak to the guest speakers in small groups or sometimes even one on one. We have been running these workshops regularly for years and they provide wonderful opportunities for our students to get professional feedback for their work and at the same time expose their talent to the industry.
Past Workshops [click the images to enlarge]
…………………………………………………………………………………………………………………………………
SCAD-Atlanta Game Club
SCAD Game Club is a SCAD students organized club, advised by the SCAD Interactive Design & Game Development faculty.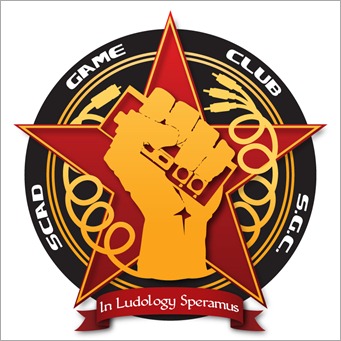 SCAD GAME CLUB meets every Friday afternoon in the SCAD Game Lab
SCAD Game Lab is located at SCAD-Atlanta Digital Media Center room 348
In each SCAD Game Club meeting, we exchange brain juice by offering game development tutorials, game design workshops and game project play-testing sessions.
Our regular activities:
– Game development tutorials
– Game design workshops
– Game project play-testing sessions
– Game industry discussion
– Collaborative project meetings
– And of course, play and critique games
Join the SCAD GAME CLUB Facebook group to receive updates and the news from the SCAD Game Club / local industry / local game development groups (there are many local game industry professionals and game dev group organizers in our Facebook group)
Join the SCAD GAME CLUB Facebook group

1. Log in to Facebook
2. Search "SCAD Game Club" or go to https://www.facebook.com/groups/scadgameclub/
3. Click Join this Group
…………………………………………………………………………………………………………………………………
Global Game Jam at SCAD-Atlanta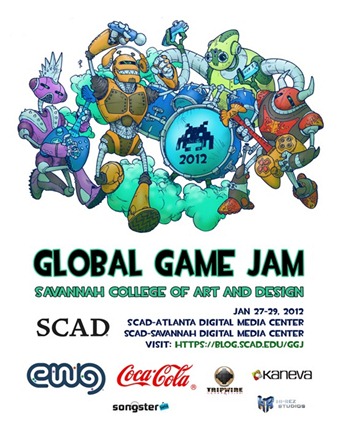 With 210 registered participants, SCAD-Atlanta ran the largest global gam jam site in the US (the third largest in the world) in 2012!
Students from Berklee College of Music, Columbus State University, Georgia Tech, Georgia State University, Georgia Gwinnett College, SCAD, SAE Institute Atlanta, Southern Polytechnic State University, The Art Institute of Atlanta, University of Georgia and other game design programs as well as industry professionals gathered at the SCAD-Atlanta campus for 48 hours of intense game design and development. 32 projects were produced in 48 hours and presented by the end of the game jam to a group of 18 game industry leaders and college professors from Georgia. It was such an incredible weekend of knowledge exchange, production frenzy and pure game development fun!  
Visit the SCAD-Atlanta Global Game Jam website: https://blog.scad.edu/ggj/ 
Visit the SCAD-Atlanta jam site on the Global Game Jam website: http://archive.globalgamejam.org/sites/2012/scad-atlanta
…………………………………………………………………………………………………………………………………
SCAD Game Developers eXchange (GDX) Conference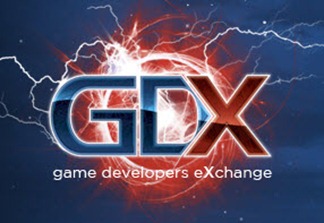 The Game Developers eXchange (GDX) is an annual conference in May, sponsored and hosted by the Savannah College of Art and Design, brings together game developers, educators and students. Game development experts share their behind-the-scenes knowledge of the game industry. Participants choose from a variety of sessions in which professionals discuss the elements of AAA game creation.
For the latest GDX info, visit: http://www.scad.edu/experience/events/gdx/index.php